Presents
Canadian Champion. Santamaria Along Came Polly

Sire: 
Cornerstone California Tan imp US (Deceased)  Dam: Aust Ch.Santamaria Strength N Honour

1/4/2004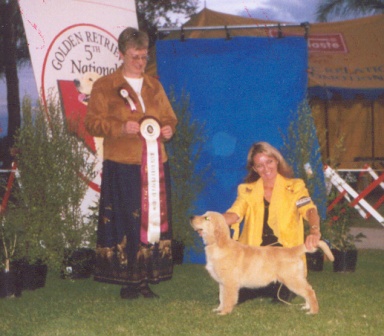 "Polly"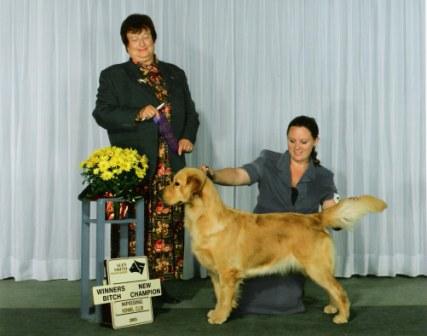 Achievements:
Polly is the daughter of our lovely Larney, and littermate to Buster.
She has 8 Baby in Group Awards. She was Baby in Show at our Golden National under Ainslee Mills, and has a total of 6 Baby in Show awards .
We can't wait to see what she does as an adult. We promise pictures of this beautiful young lady soon.
Those of you who missed this litter, watch for news of Larney's next breeding late in 2004! STOP PRESS Polly now resides with Teresa in the states and has just gained her Canadian Championship. She has only been with Teresa for 6 months. Stay tuned for new photos and news of this young bitches acheivements.

Pedigree of "Canadian Champion. Santamaria Along Came Polly"

Parents
GrandParents
GreatGrandParents
SIRE

Cornerstone California Tan imp US (Deceased)      

 

Am Can Ch Auric Sunshine Boutoniere SDHF

 Am Ch Faera's Future Classic
Am Ch Auric's Chrysanthemum
Honor's McBear Hug Your Teddi
Am Ch Faera's Destiny Kodiak Kidd
Am Ch Honor's Wild McBear Hug

DAM

Aust Ch.Santamaria Strength N Honour

Aust Ch Strathraer Nordic Star
FNL SWD CH. FNL. F,.T. Ch Trewater Macoy (IMP UK-FNL)
Haamorin Mesimarja (IMP FNL)
Aust Grand Ch Santamaria Anna Leise
Aust Ch. Goldtreve Dukes Son
Aust Ch. Santamaria Liason