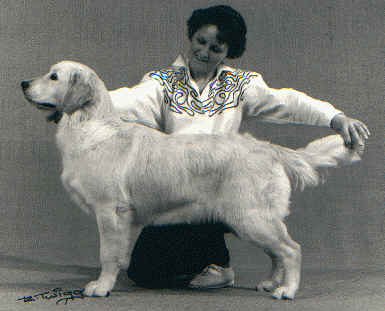 "Chelsea"
Chelsea was obtained as an 8 week old puppy & was a Champion by the age of 10 months.
Bitch challenge winner at the Royal Melbourne show at only 6 months of age.
A multiple group & show winner, Chelsea was certainly a delight to handle and now lives happily retired.
Pedigree of: CH. Ranchosierra Dickens Rose

| | |
| --- | --- |
| Sex | Female |
| Date of Birth | 18/1/1988 |
PARENTS

GRANDPARENTS

GREAT GRANDPARENTS

GREAT GREAT GRANDPARENTS

CH. Folderslane Freewheeler (Imp UK.)
ENG SH CH. Verdayne Dandini of Davern (UK.)
ENG CH. Brensham Audacity (UK)
ENG CH. Stolford Happy Lad (UK)
Moonwell Dora of Brensham (UK)
Verdayne Charlotte (UK)
ENG CH. Davern Figaro (UK)
Tallyrand Trudi
Marketsheath Cornflower (UK.)
ENG SH CH. Nortonwood Checkmate (UK)
ENG CH. Davern Figaro (UK)
ENG SH CH. Nortonwood Canella (UK)
Davern Dancing Queen
Camrose Fidelio of Davern
Davern Gemella
Santamaria Glaze
CH. Nortonwood Rossetti (Imp UK.)
ENG SH CH. Nortonwood Checkmate (UK)
ENG CH. Davern Figaro (UK)
ENG SH CH. Nortonwood Canella (UK)
Bramhills Saffron of Nortonwood (UK)
ENG CH. Nortonwood Faunus (UK)
Bramhills Rosalind
Santamaria Edellia
Gyrima Xoliver Sunbronze (Imp UK)
ENG SH CH. Gyrima Oliver (UK)
Gyrima Joanna (UK)
CH. Clynglas Bambi
Santamaria Dominic
Nordlys Charisma