Presents
Australian Grand Champion Santamaria AnnaLeise

Sire: 
Aust Ch. Goldtreve Dukes Son  Dam: CH. Santamaria Liason

24/6/96Clear Eye & Heart Certified AVA Hip Score 3/3(6)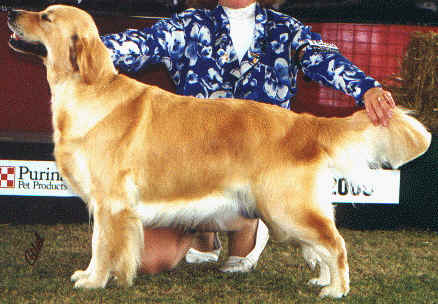 We are extremely proud of "Annie", Awarded:

Achievements:
With regret that Annie passed away on Thursday 24th of July, 12 Years of age. My right arm is now gone, waiting at rainbow bridge was her friends, Topper, mother Dare, and all her crew. Also my Dad would now have his Goldens by his side. Good bye my lovely girl, such a very sad and tragic day for me, may your passing give way for better days and a Bright future within the kennel and family who loved you so very much. ANNIE AWARDED 1ST IN open Bitch and Reserve Bitch at the largest dog show in Australia. The Royal Melbourne Show. Now what do you think about that we always knew she could do it.
Annie has become the second Santamaria bitch to gain the coveted title of Grand Champion. This is a difficult title to obtain, and we are so proud to have produced our two Annies who have both earned this title! Bitch of the year GRCV 96-97.
Encouragement bitch of the year GRCV 96-97.
Bitch of the year GRCV 1998.
Achievement bitch of the year GRCV 1998.
Achievement bitch of the year GRCV 1999.
Reserve Bitch GRCV Championship show 1999 under breed specialist Mr. Beckwith (USA).
Best of breed Sydney Royal 2000.
We are looking forward to her maternal duties at the end of 2000. Annie took out Best of Breed at the Royal Melbourne Show in September 2000. What a win. annie is a once in a life time bitch. Her 2001 litter has produced outstading progeny. Out of 7 puppies, 5 ended up in show homes, all are best in group or in show winners and 2 are on their way to their australian titles. We are now taking orders for annies next litter due early 2002. Thanks Annie, my beautiful beautiful girl. Who does anything to please me.

Pedigree of "Australian Grand Champion Santamaria AnnaLeise"

Parents
GrandParents
GreatGrandParents
SIRE

Aust Ch. Goldtreve Dukes Son      

 

CH. Deremar Duke (Imp UK)

 ENG CH. Davern Figaro (UK)
ENG CH. Deremar Rosemary (UK)
Goldtreve Camrosa (AI)
ENG CH. Camrose Cabus Christopher (Imp UK)
CH. Gaewynd Tapestry

DAM

CH. Santamaria Liason

CH. Goldtreve Cameron (AI)
ENG CH. Camrose Cabus Christopher (Imp UK)
CH. Gaewynd Tapestry
Santamaria Glaze
CH. Nortonwood Rossetti (Imp UK.)
Santamaria Edellia