Latest News
Aust Champion Santamaria Dont Stop Me Now
WOW what a start to this young mans career. Hip, Elbow, Eye tested, Heart Clear and DNA FULL PROFILE. Son of Santamaria Blow Me One Last Kiss who is full sister to Supreme Ch Santamaria Indecent Proposal and the beautiful Canadian and American and Australian Supreme Champion Nautilus Great Barrier Reef. Freddy is now at PUBLIC STUD and is a PROVEN SIRE Freddy has gained his Australian Championship by 11 months of age. He is already a multiple Class in group and Best in Group winner and has just been named PUPY OF THE YEAR (DOL) for Victoria for 2019. Freddy has also qualified for TOP PUPPY . You view all his clearances NO copies are given out. for any of our dogs. Freddy is now 18 mths of age and stands at stud.
---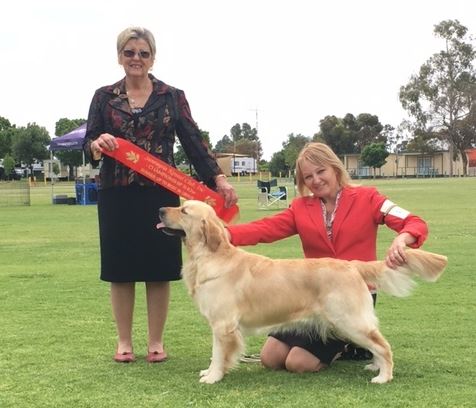 Australian Champion. Santamaria Blow Me One Last Kiss
MeMe is a repeat mating which produced Indecent Proposal. She is a multiple Class in Group, Class In show winner. MeMe became a aust ch at a very young age, always in the shadows of her full sister Demi, she was best of Breed at the 2014 Royal adelaide show beating Australias Top goldens under a well know Canadian judge.
---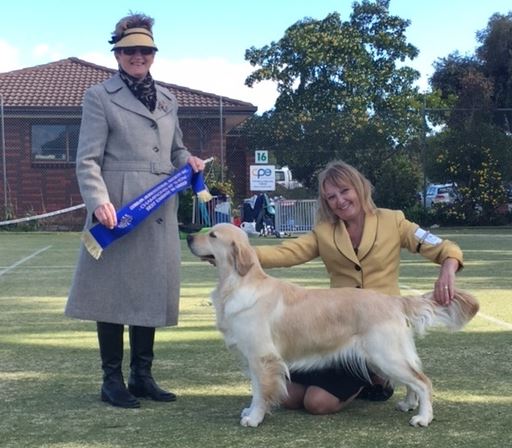 Supreme Grand Champion. Santamaria Indecent Proposal
This absolutely outstanding bitch has reached more than any breeder could wish for. She is a multiple All Breeds Best In show winner, Best in group, runner up in group and has amassed over 60 class in group and in show awards. She currently is Number 1 bitch in Australia and Number 1 Golden in the state of Victoria. DEMI does it again, leading Bitch for the state for 2019 and taking out BEST OF BREED at the 2019 Royal adelaide Show. After her maternal duties Demi will be back where she loves , int he ring.
---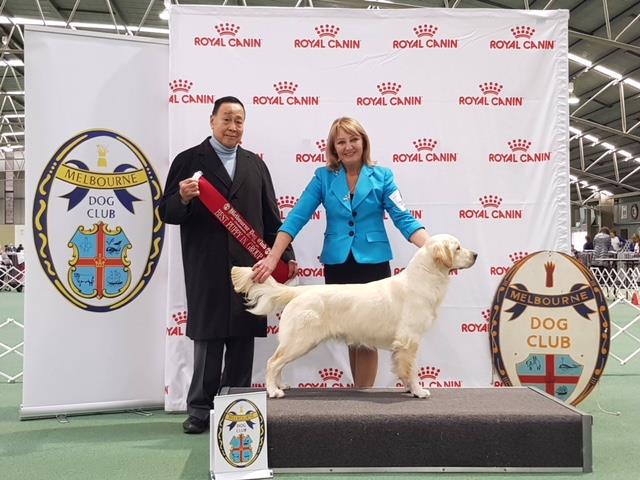 Aust Ch. Santamaria Vegas Showgirl
Our newest member to the kennel is this beautiful bitch Winx, from our lovely boy Austin and Maxi, her pedigree has some of the best lines to offer. She currently sits at Number 1 Puppy in the state, a multiple class in group and class in show winner under the most esteemed judges from all over the world. Winx will be mated again for the last time 2022.
---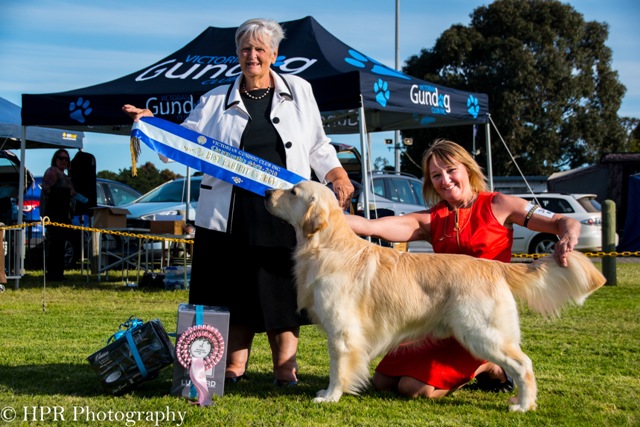 Supreme CH Dual CH (T) Dual Grand CH (TS) Santamaria Supremacy CCD RN
Harvey is now a Supreme Champion and a Dual Grand Champion in Track and Search. He won the Golden Retriever club of Victoria's Intermediate of the year for 2014 and 2015. He also holds obedience titles Community Companion Dog and Rally Novice. He is beauty and brains. Harvey won Best in Show at the Victorian Gundog Show 2016 and Best of Breed at the Royal Melbourne Show 2017. He also won dog challenge at Adelaide and Melbourne Royals in 2019. As there is no more Harvey can achieve in Track and Search he is being trained in scent work and tricks. This will be his 2020 projects. Harvey is the most titled golden retriever in Australia and the best pet anyone could own.
---
Jan 2011. News so far Grand Champion Santamaria Manadleh has been aclaimed as Top Golden Retriever Bitch for the state of Victoria and 6th overall for Australia (DOL). As well as the above we have been honoured to be acalimed as the Top Golden Retriever Kennel for Victoria and 3rd overall for Australia. We have so many exciting plans for 2011 with 2 litters planned with our 2 top bitches, Mandaleh will be having her last litter and Charli her first. Both bitches have been planned to Australias top lines. 2010. Has been such an awarding year for us, with Mandaleh, Boy Wonder, our young recruits Charli and Drama being virutally unbeaten. Our youngest stars Charli (Long Kiss Goodnite) and Drama (Drama Drama Drama) have both gone only 2nd to Mandaleh. Boy Wonder is now residing in New Zealand with Jan Cook as well as Tiki (Blaze of Glory) and Lily, who has gained her New Zealand championship in only a few months of her arrival.
---
Aust Ch. Santamaria Dont Stop Me Now
WOW what a start to this young mans career. Son of Santamaria Blow Me One Last Kiss who is full sister to Supreme Ch Santamaria Indecent Proposal and the beautiful Canadian and American and Australian Supreme Champion Nautilus Great Barrier Reef. Freddy has made his mark in the ring BIG TIME, watch out for him and his sister Dixie. STOP PRESS Freddy goes Puppy of breed and makes the final cut for Puppy in group at the prestigious Adelaide Royal. November a huge month for this bloke. Dog CC and RUBOB being awarded highly over National winners under Gundog Speacialist Mr Bott from the Uk Then the following few days he did not disappoint with Freddy going Puppy in Show and BOB under Michelle Roberts (WA) and Puppy in Show under Mrs Wendy Baker (SA) Freddy awarded Puppy in Group under Duncan McAlister and BOB At only 9 mths of age he is nearly titled, what a amazing young male. And DOL Leader for Puppy of the Year (Vic) Goldens Freddy now a proven sire, and an exciting future ahead
---
"None"
Santamaria announce that we have strict restrictions in place to avoid our lines being used to lines which would not be beneficial to our name. All our progeny are tested for hips, elbows, hearts eyes as well as glaucoma. We will do anything to protect our lines and our name. We pride ourselves with over 40 years of knowledge and a life time of being with Goldens, we have had the priviledge to have known Australias top dogs and breeders. We still have a close alliance with the most respected Australian breeders. Buyers should be aware of any breeder which cast doubt on our most respected and long breeders. If you are a prospective buyer be careful of those so called breeders who belittle others on their web sites or when asking for information. All orders placed with Santamaria are done so over the phone or in person and all conditions are always disclosed.
---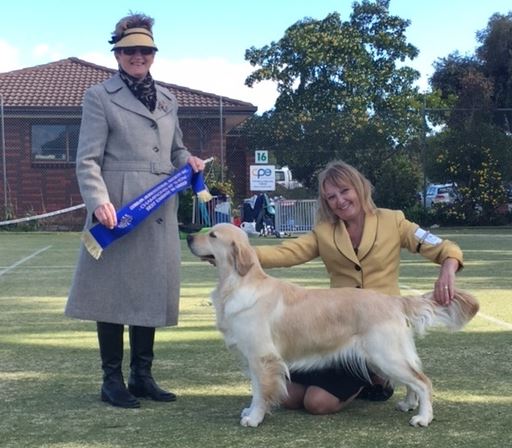 Month By Month Review
2018
Santamaria now have 3 Dual Champions with both Lewis and Zoe gaining their Championships in Tracking.
Harvey has gained his Track and Search Dog, Track and Search Dog Excellent and Track and Search Championship this year. He has been very busy with also being in shows most weekend. Santamaria have the No1 Golden Bitch and Dog in Victoria.
2017
Zoe gains her final points(her 30 Neuter of Show) to now be a Neuter Grand Champion. She is the first Golden Retriever and the first Gundog in Victoria to gain this title. Poppy wins Best Baby in Group at her first show. What a day we had at Lang Lang.
First show of 2017 Demi wins Best of Breed, Lewis wins a big Dog Challenge and gets his final points for his Australian Championship. He will now be known as Ch Santamaria Let the Games Begin and will take a rest from the show ring. Zoe win Neuter of Group. Poppy the new member of the team will be making her debut in the show ring later this month. We cant wait to see how she goes.
2016
What a year for Santamaria. Demi is No1 Golden Retriever Show Dog of the Year (dogzonline)for Victoria and No1 Bitch in Australia and No 1 in the Breed challenge competition in Australia.
Lewis No 1 Rising Star for Victoria and his sister Max is 2nd.
Harvey got his Tracking Championship and won a Best in Show.
Zoe is No1 Neutered Golden Retriever in Australia and the Top Neutered show dog for Victoria.
December
Last show of the years see Demi winning Best in Group under breed specialist Anthea Adams and goes on to win Aust Bred in show.. Lewis winning dog challenge and Zoe wining runner up neuter of show. A great way to see out 2016. Castlemaine KC Demi gets Bitch Challenge, Lewis is Res Dog and Junior of Group, Zoe is Neuter of Show.
October Demi is still the No1 Golden retriever in Victoria and has won Best in Group at Royal Geelong, Euroa and Cobram this month.
Harvey win Best in Show at the Victorian Gundog Show under gundog specialist Mrs E Megginson from South Africa.
Zoe is the No1 neutered show dog for Victoria.
Meme wins Runner up in Group at Mildura
Lewis is 3/4 of the way to his Championship.
2015
Jan-July Where do l begin. In Jan under a international panel we started the year with a bang with Demi winning Group 1st under worl renowned judges and continued on her winning streak. She was placed 1st at Sydney Royal, and that was putting her up into the open bitch class where she beat many older bitches. What a year it has been, presently July 2015, and we have ended July with a huge BANG with our young 2 1/2 year old bitch "Demi" Santamaria Indecent Proposal not only gaining her Grand Championship at frankston Ch Show under Mr Adam Druce but 1 week later obtaining her SUPREME CHAMPIONSHIP at wangarrata Ch show with her 3rd Best Exhibit In Show award. This is our 5th grand Champion and our 2nd Supreme Champion, and the very first Supreme Champuon bitch for the breed for our state and the 2nd for Australia. You cannot do much better than that. Our newest youngster "Lex" has ended her baby time with leading top puppy for the breed in our state and is the consistent winner for her age class with only being beaten twice. MeMe has just been mated but came out for Sydney Royal with no coat and was placed and then had a huge break only to come out again a few weeks ago and only being beaten by her kennel mate Demi. We remain the number 1 conformation/show kennel for our state, and finish the month with Number 1 Golden for the state. August and the remainder of the year is shaping up pretty nicely with 2 fabulous litters planned and already under way. And of course our daughter cassidy has just been awarded 1st place for the state at the Junior Handler state finals for her age class. December so far has been such a rewarding month for me with my beautiful boy obtaining his last group giving him his Supreme Championship, and 2 of my bitches being good girls and coming into season. October/November Wow another great month with Santamaria again having successful months in the show ring, an amazing year we have had. We had our National where all my dogs were placed and thus having the most successful kennel in Victoria. September Royal month And what a month it has been. We travelled to Adelaide where all our dogs did extremely well with Game Of Thrones going Reserve CC and then her kennel mate MeMe went on to be awarded Best Of Breed . Very exciting for us . Melbourne Royal also we did extremely well with all our dogs. July and August 2014 What a few busy months with outstanding results. After a 7 month break l returned my special boy "Winter" to the show ring and at his first show out he was awarded Best Exhibit in Group and the next day Runner Up In Group and beating a huge amount of Goldens and immediately going half way to his title. the August 16th he gained his Australian Championship. The girls and of course Austin held their own with all 3 taking out Group 1st, group 2nds and classes in group and in show, with Austin nearing his Supreme Championship. With judging and showing it has been a busy few months, cant wait to catch my breath. Our daughter Cassidy pictured above also started her junior Handler show career with going 2nd in her age group in the state finals and presently leading Best New handler for australia. Very proud Mummy and Daddy and headquarters. June
Sees our puppies go to their new home and we decided that as the litter was just outstanding we have kept a stunning youn male "Dom" starts his show career in the month of July/August. Again we end the month of June with still reaching for the stars and both Charli and Austin always hard to beat.
May
another busy month for us at Santamaria, with a litter of lovely puppies sired by our Best In Show winner "Austin" and keeping up to date with judging and other day to day business Santamaria ends May with still being TOP Bitch and Puppy in our state and TOP breeder in our state.
April
A bucy month judging for me, in NZ with some outstanding dogs.
We travelled to Mildura for a weekend of shows and again Austin, Hilary and Charli taking out Top Awards with Charli coming back into coat and taking Intermediate in Group both days.
March
Hilary is back in the ring and has matured up very nicely taking many Junior Bitch 1st, and now starting to behave as she matures. Long Kiss Goodnite still Number 1 bitch in Victoria with an incredible tally of points towards her Grand Championship. Austin again Top Puppy and now a proven sire with a wonderful hip score just back.
Feb 2012
"Austin" gains his Australian Championship. and goes Reserve Challange Dog at Canberra Royal. Still top puppy in Victoria.
Jan 2012.
another great month but a more lighter month as well being so hot. Austin goes BOB at his first 2 shows for the year and another few Puppy in group awards.
Austin also been given invitiation to Victoria Top Puppy Award, We are so very proud of him.
December
A quiet month however we ended the year with both Hilary and Austin winning Minor in Show and Puppy in Show as well as Hilary earning points for her Australian Championship and Austin gaining more points putting him closer to his title.
Santamaria ended up being the TOP GOLDEN BREEDER in the state of VICTORIA as well as taking out No 1 Puppy with Austin and No 1 and No 2 Bitch with charli and Drama.
A Great end of the year for us.
November
again saw Long Kiss Goodnite, DRAMA and Austin winning top awards.
October
WOW what a month we have had so far, "Austin" half way to his Australian Championship at 8 mths of age, Puppy in show and Runner up in Group under interantionally acclaimed judges. Drama only 2 pts away from her title and l passed my Hound Championship licence which now gives me 3 championship groups. Phew, busy month and more to come.
September
A busy time for us at santamaria with caring for our litter and study time for me. All our dogs gained top placings at Australias largest show.
August 2011.
Its Baby Time at Santamaria with Star due to give birth at the beginning of the Month.
July 2011
Drama goes Bitch CC and RUBOB at Junior Kennel Club of Victoria and both Austin and Million Dollar Bay , "Hilary" both respectively winning every baby class for the enntire month with austin going Baby in Show at the prestigious Melbourne Dog Club Championship Show.
June 2011
Saw a great number of shows with this time our new man "Austin" winning many baby in group awards. Drama also nearing her title at only 12 mths of age.
May 2011.
May saw us start the month in style with Austin making his debut, the return into the show ring with Mandaleh and yet another Res CC and RUBOB with Drama.
Austin, Man Of Mystery goes Baby of breed both days on the 28th and 29th of May and tops May off with Baby In Group under Mrs Steidel (USA) on my birthday.
Hilary makes her debut socialising also.
April 2011
At Bunyip Champ Show under Gundog Speacialist Mrs Jill Hocking (Vic), Charli goes Bitch CC and RUBOB and Drama goes Res CC, Puppy in Group and 2nd in the Scottish Breeds sweepstakes.
The the following week under Ms K Martin from NZ Drama went Bitch CC with Drama this time going Res CC.