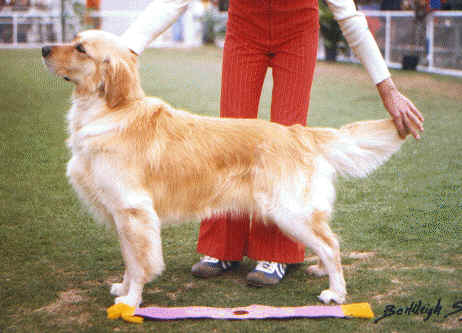 "Pedro"
This dog was a multiple best in show winner and had accumulated over 2000 challenge points. Great Grandfather to "San Pedro" he made an impressive start to his career and was very hard to beat.
Australian Champion at 9 months of age.
Pedro lived to a ripe old age of 17 years.
Pedigree of: Santamaria Pedro

| | |
| --- | --- |
| Sex | Male |
| Date of Birth | 19/10/1973 |
PARENTS

GRANDPARENTS

GREAT GRANDPARENTS

GREAT GREAT GRANDPARENTS

Kyvalley Jason
CH. Glennessa Seahawk of Stenbury (Imp UK)
Glennessa Crofter of Empshott (UK)
ENG CH. Boltby Skylon (UK)
Glennessa Alexa
Waterminx of Stenbury (UK)
Waterwizard of Stenbury
ENG SH CH. Watersprite of Stenbury (UK)
CH. Glennessa Waterwillow of Stenbury (UK)
Waterwizard of Stenbury
ENG SH CH. Boltby Syrian (UK)
ENG SH CH. Watersprite of Stenbury (UK)
Waterlaughter of Stenbury
Waterboy of Stenbury (UK)
ENG SH CH. Waterwitchery of Stenbury (UK)
CH. Santamaria Zita
CH. Gunwalloe Woodruff
CH. Bonspiel Rajah
CH. Boltby Comet (Imp UK)
CH. Halsham Hazel (Imp UK)
Kyvalley Woodbine
CH. Kyvalley Kyva
CH. Bonspiel Goldglint
Gunwalloe Patricia
Kyvalley Prince
CH. Boltby Comet (Imp UK)
CH. Bonspiel Goldglint
Kyvalley Woodbine
CH. Kyvalley Kyva
CH. Bonspiel Goldglint