Presents
GRAND CHAMPION. Santamaria Tapestry

Sire: 
Goldtreve Gamekepper  Dam: Aust Ch. Santamaria Liason

6TH DEC 1995Hip, Eye & Heart certified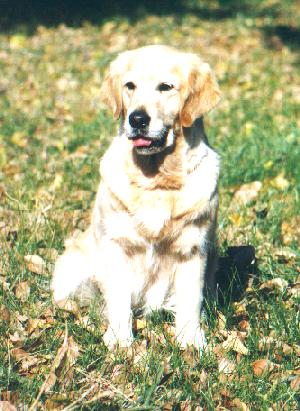 Annie

Achievements:
Grand Champion Santamaria Tapestry. "Annie" finished her Grand Champion in grand style. "Annie" has an impeccable pedigree stemming from the best Australian & English lines. She is only the second Grand Champion bitch for Victoria and the 4th Golden in Victoria to have this top award. Santamaria are also very honored to be the second breeder in Victoria to have bred a GRAND CHAMPION. "Annie" is a multiple in group & in show winner, winning at All Breeds shows throughout Australia. She is all from our beautiful old Santamaria lines.

Pedigree of "GRAND CHAMPION. Santamaria Tapestry"

Parents
GrandParents
GreatGrandParents
SIRE

Goldtreve Gamekepper      

 

Aust Ch. Alubycc SS Enterprise

 Aust Ch. Noravon Otto Goldtreve
Aust Ch. Alubycc Autmun Arwen
Goldtreve Speacial Issue (AI)
Eng Ch. Camrose Cabus Christopher
Aust Ch. Goldtreve Tosca

DAM

Aust Ch. Santamaria Liason

Aust Ch Goldtreve Cameron
Eng Ch. Camrose Cabus Christopher
Aust Ch. Gaewynd tapestry
Santamaria Glaze
Aust Ch. Nortonwood Rossetti (IMP UK)
Santamaria Edellia