Presents
Aust Ch. Santamaria Strength N Honour

Sire: 
Aust Ch Strathraer Nordic Star  Dam: Grand Ch Santamaria Anna Leise

28th Jan 2001Hip , Eye & Heart Certified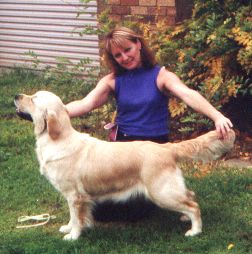 LARNEY

Achievements:
Larney was leased untill the 31st of Dec 2008 and was rehomed and de sexed without out consent or knowledge by Lydia Sernecki. She was never owned by this person and only on lease. Valuable lessons have been learnt. Be very careful with whom you think you can trust. Information in regards to our dog was kept from us intentionally. This has been a long process that we have endured with not knowing where Larney was. And we are sure that any kennel would have acted in the same way as we have had to do. It is a every breeders nightmare. We are so very thankful to our friends and breeders who have emailed us with information and their support, yes you know who you are. We are so very happy to report that Larney present custodians are now in contact with us and we have now bonded all togeather. Any photos of Larney produced are only produced and given with our and Larneys new owners consent. Larney is still solely owend by us at Santamaria but because of the circumstances she now resides elsewhere.

Pedigree of "Aust Ch. Santamaria Strength N Honour"

Parents
GrandParents
GreatGrandParents
SIRE

Aust Ch Strathraer Nordic Star      

 

FNL SWD CH. FNL. F,.T. Ch Trewater Macoy (IMP UK-FNL)

 Muskan Most likely
Sandusky Khamsin at Trewater
Haamorin Mesimarja (IMP FNL)
FNL CH. Lovehayne Darter
FNL CH Kultauulen Marie Brizard

DAM

Grand Ch Santamaria Anna Leise

Aust Ch Deremar Duke (IMP UK)
Aust Ch. Santamaria Liason
Santamaria Glaze