Litters
                                                             Bella has produced her first litter to Winter
                                                                      Dixie will also be mated to Winter
                                                             Alice, will be surgically AI to frozen Semen
Aust Champion Santamaria Dont Stop Me Now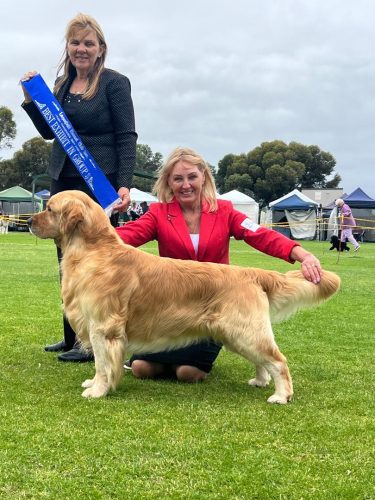 Sire Of Bella
WOW what a start to this young mans career. Hip, Elbow, Eye tested, Heart Clear and DNA FULL PROFILE. Son of Santamaria Blow Me One Last Kiss who is full sister to Supreme Ch Santamaria Indecent Proposal and the beautiful Canadian and American and Australian Supreme Champion Nautilus Great Barrier Reef. Freddy is now at PUBLIC STUD and is a PROVEN SIRE Freddy has gained his Australian Championship by 11 months of age. He is already a multiple Class in group and Best in Group winner and has just been named PUPY OF THE YEAR (DOL) for Victoria for 2019. Freddy has also qualified for TOP PUPPY . You view all his clearances NO copies are given out. for any of our dogs. Freddy is now 18 mths of age and stands at stud.
---
---
---
---

Australian Champion Goldtreve Game Of Thrones
Winter was achieved through lots of hard work and time and stress. However the outcome speaks for itself. In 2013 l approached the owner and breeder of Winters sire, and after lots of hard choices l chose to have a litter, the only condition was my litter had to be in another Prefix. Although not ideal l accepted this condition and then sent my lovely girl to Sydney and she was surgically inseminated and flew home where we waited with much anticipation for word that she was pregnant. Fortunately for us, we were lucky and charli gave birth to 4 lovely puppies, 3 males and 1 bitch. This litter was whelped and nurtured only by us at Santamaria. In November 2013, l rested Winter for 7 months only to make his debut back in the ring in June 2014 and immediately went Best Of Breed and Best in Group following up the very next day with again Best Of Breed and Runner Up In Group. He was campaigned for only 7 weeks and obtained his Australian Championship at only 12 1/2 months of age. He is a multiple Group, Runner Up In Group, Class in Show and Class in Group winner and we are very very proud of this dog and what he has achieved in such a short span of time. We have big plans for him and our breeding program. Thank you to all those judges from all over Australia and International judges who have admired this young dog. Winter is available at stud to approved bitches only.