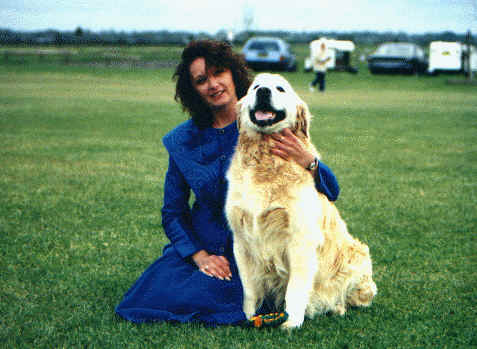 "Pedro"
As his great grandfather, Pedro accumulated over 1000 points which today would have given him the title of Grand Champion.
A multiple all breeds best in show and group winner, Pedro always made an impression in the show ring – a true showman. Many junior handles had many impressive wins with the help from Pedro.
Pedro died at nearly of 15 years of age, we still miss his happy face.
Pedigree of: CH. Santamaria San Pedro

| | |
| --- | --- |
| Sex | Male |
| Date of Birth | 10/12/1980 |
PARENTS

GRANDPARENTS

GREAT GRANDPARENTS

GREAT GREAT GRANDPARENTS

CH. Castiewood Darby
CH. Daleworth Skye Cromarty
Santamaria Pedro
Kyvalley Jason
CH. Santamaria Zita
Daleworth Sky Mist
CH. Pebbleridge Dusty Gold
CH. Koodnapina Golda
Kyvalley Kiami
CH. Wildheart Wenan
CH. Kyvalley Kyva
CH. Kyvalley Sweet Corn
CH. Goldtreve Waterwisp
CH. Kyvalley Kyva
CH. Glennessa Waterwillow of Stenbury (UK)
CH. Clynglas Bambi
Santamaria Dominic
Santamaria Pedro
Kyvalley Jason
CH. Santamaria Zita
CH. Piarki Mea Princess
CH. Wildheart Wenan
CH. St Malo Brandy Meiling
Nordlys Charisma
CH. Calrossie of Westley (Imp UK)
CH. Sansue Camrose Phoenix
ENG CH. Pippa of Westley (UK)
CH. Camrose Antanya (Imp UK)
Camrose Imatomas
Camrose Quentanya